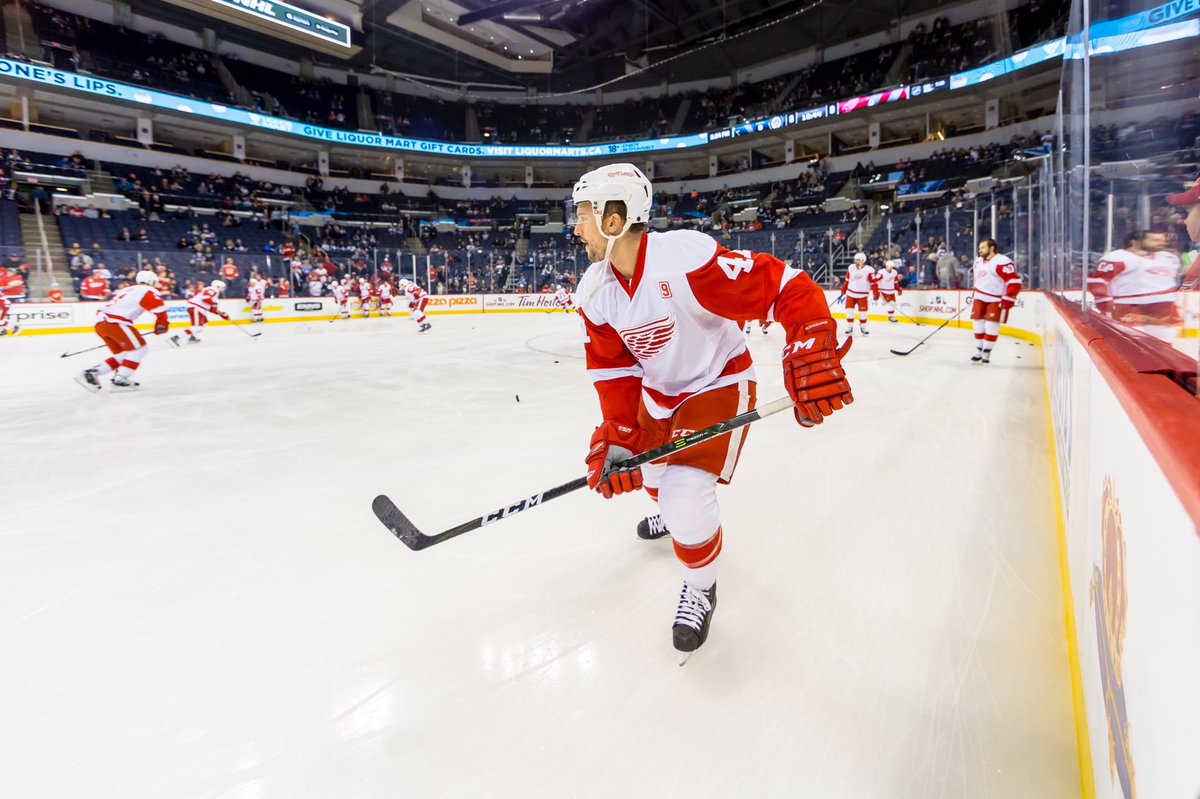 When you say the name Luke Glendening, you get a various amount of looks that run the gambit from yeah he's cool to send him to the trading block.  To one of these reactions you should give a high five; to the latter you should ask "For who?"
There is another current Red Wing that Glendening shares a similar love/hate relationship among the fans- Steve Ott. Ott, known for his use of the fists to rearrange opponents faces, has drawn undue negative comments because he isn't an offensive prowess on a team that is hemorrhaging goals. Glendening, a journeyman fourth liner has drawn similar criticism because when the Wings get an odd-man rush, it's typically Glendening and Ott. The end result, well, the stats tell the tale.
Through 27 games played, Glendening has recorded just one goal and seven total points. He's amassed 10 penalty minutes, and has landed 35 shots on net while winning 52.4% of faceoffs. Over his 246 game career, he's recorded 22 goals and 31 assists.
Yes, I will admit that it has the appearance of a lackluster career in the making, but Glenny has something that isn't recorded on a stat sheet- heart. He takes pride in being a thorn in the side of the NHL's best, blocking shots from Ovechkin, Stamkos, Perry, Crosby while out on the penalty kill — he's recorded 34 blocks so far this season. He's taken the puck away ten times while only coughing it up twice, showing he does have puck control.
On the offensive side of things, he is one of the few players outside of Pavel Datsyuk that I have seen that is willing to take a backhand shot on any given shift. He's participated in more outdoor games in his entire hockey life than any two active NHLers combined. When the Red Wings take on the Maple Leafs on January 1st for the Centennial Classic, Glendening will be participating in his seventh outdoor game. He has an unbridled love for the game, and after reading  how John Scott never took a day for granted, it's safe to assume Glenny doesn't either.
The former walk-on for the Michigan Wolverines made his way to the Wings as an undrafted free agent and working his way through the system that is notorious for waiting for their players to be "over ripe", finishing the 2013 season with an AHL Calder Cup Championship.
He may not be a flashy goal scorer at the NHL level like Patrick Kane, he recorded a career-high 21 points last season (8 goals, 13 assists), but his ability to kill penalties and be a defensive forward has lent himself to being invaluable whenever he is on the ice. He's embraced the fourth line mentality, all while moving his way up the depth chart due to injuries. In the last three games he's been on the wing of the second line.
It is those intangibles that helped Glenny land his latest contract extension, one that will carry him through the 2020-21 season, earning him $7.2 million. With such a minimal cap hit, I ask is it really worth the amount of hate that I see aimed in his general direction? I for one am a big fan of Glendening, and it's a level of fandom I hope will be contagious and will spread through the fanbase like a wildfire, because when a player has this much heart and love for the game, he can never lose.